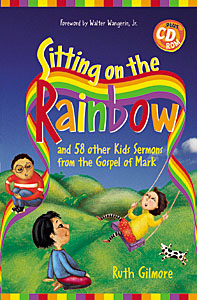 SITTING ON THE RAINBOW (Children's Sermons on Mark) by Ruth Gilmore +
14.95
AUG: 0-8066-4081-2

This collection of easy-to-use kids sermons brings children into congregational life and helps them connect with God. Featuring an indexed table of contents and a CD-ROM that lets users personalize each sermon, this is the fourth volume of kids sermons by Ruth Gilmore. Organized to accompany Year B of the Revised Common Lectionary, this collection will appeal to anyone wanting to connect with kids in a fun, theologically sound way.

About the Author: Ruth Gilmore is Director of Children's Ministries at the Lutheran Church of the Good Shepherd in Sacramento, California.

This item does not qualify for free shipping. However, normal shipping applies and there is never a surcharge.