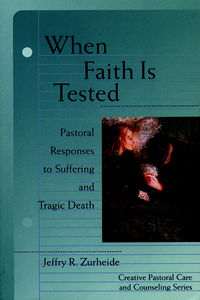 WHEN FAITH IS TESTED by Jeffry R. Zurheide ($16)
12.95
AUG: 0-8006-2978-7

When a religious caregiver visits a person who is suffering and dying or who is grieving a tragic death, questions arise concerning faith in God's goodness and power. This book deals with the pastor's preparation to deal with personal and cosmic issues of suffering and justice. Zurheide includes suggestions for conducting conversations with the dying.

About the Author: Jeffry R. Zurheide is Pastor of Wilton Baptist Church in Wilton, Connecticut. A former hospital chaplain, he holds the D.Min. in pastoral care and counseling from Brite Divinity School and is a member of the Association for Clinical Pastoral Education.

About the Editor: Howard W. Stone is Professor of Pastoral Theology and Pastoral Counseling at Brite Divinity School, Texas Christian University. Among his many influential books are Brief Pastoral Counseling, Crisis Counseling, and (with James O. Duke) How to Think Theologically, all from Fortress Press. He is also the editor of the Fortress Press series Creative Pastoral Care and Counseling.