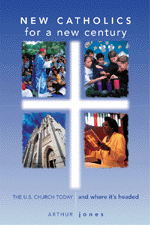 NEW CATHOLICS FOR A NEW CENTURY by Arthur Jones ($21.95)
19.95
RCL: 0-88347-455-7

"New Catholics is a very appropriate book for our times. For anyone who cares about what the Catholic Church in America is today and is personally concerned about where it is going in the future, this book is well worth reading." --Rev. Theodore M. Hesburgh, C.S.C., President Emeritus, University of Notre Dame

New Catholics chronicles the evolution of the Catholic Church and its impact in our world from over a quarter-century ago to present day. How has the role of women changed through the history of the Church? What can we look forward to as the number of priests continues to decline? The author answers these and other questions that prevail in the minds of today's sixty-two million American Catholics. But how do we describe the Catholics of tomorrow? What are the questions the Catholics of the years 2010 to 2040 will be asking? And what do we need to do to get there? Mr. Jones has some definite ideas.

Arthur Jones is editor for the National Catholic Reporter and has worked in Catholic journalism for over twenty-five years. He is the author of eight titles, including Capitalism and Christians and Hearts of Fire.