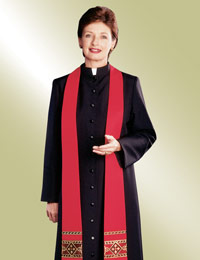 CASSOCK H-88 (Black) for Women (with free shipping)
259.90 234.95 On Sale!
MR: CH99

Tailored in black Viva, this classic pastor's cassock has been refined with construction features preferred by women. Princess lines provide a comfortable fit for all figure types, and the removable tab collar eliminates the need for an underlying clerical shirt. Lined to the waist with soft shoulder pads, right and left full pockets, and triple inverted box pleats in the back are tailoring features that will make this cassock your favorite. Machine washable and available for women only.

Sizing: This Murphy exclusive is stocked in 20 sizes to fit most women and is ready for shipment within 24 hours of factory receipt of order. To find your size, please consult the Women's QS Cassock & Alb Size Chart. If you don't know how to measure your sleeve length, please refer to the How to Measure information.

Custom robes of this style are available with delivery in 6 to 8 weeks in your choice of sizes, etc. for $319.95 (list: $336)(MR248F). Please contact us for more information via our toll free number at 877-432-6745.

The Qwick-Ship® Guarantee of Satisfaction means that if you are not satisfied with any Qwick-Ship item you purchase, you may return it (unused and unworn) for exchange or refund within 10 days of purchase.


Have you considered a Garment Bag for your new robe or alb to keep it dust-free and for travel?

Free shipping offer applies only to orders shipped to destinations within the continental USA.

INTERNATIONAL ORDERS, PLEASE NOTE: There is an additional charge of $15 for each international order processed over and above the actual shipping charges since these robes will have to be shipped to our store before shipping overseas and will not be sent directly from Murphy. Additional items in your order will incur additional charges above the minimum for the additional weight.