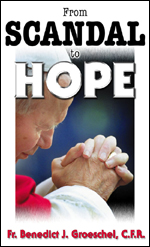 FROM SCANDAL TO HOPE by Benedict Groeschel, CFR ($9.95)
8.95
OSV: 1-931709-69-6

This new book examines the current issues within the Catholic Church. It encourages us to pray so that out of this darkness will come a more purified and better Church here in the U.S. It promotes prayer for the Church and the victims and talks about the challenges the Church faces.

The Catholic Church in the U.S. is facing its greatest challenge. What will happen next? Fr. Benedict Groeschel provides a penetrating examination of the roots of the current trouble. Calling upon the example of St. Francis, Fr. Benedict encourages all of us "to rebuild the Church. The Church is suffering -- individually, clergy, laity, religious, " he says. "This is a time for everyone to clamor for reform!" By offering concrete ways for the reader to use this suffering to emerge from the scandals with a renewed faith in the power of Jesus Christ, Fr. Benedict points all of us in the direction of hope.