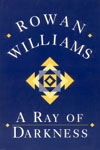 RAY OF DARKNESS by Rowan Williams ($14.95)
12.95 10.49 On Sale!
COW: 1-56101-112-6

In this collection of pastoral sermons and addresses, Bishop Rowan Williams shows how the faith of the creeds can still equip Christians for a vigorous and critical engagement with the world of today. In his often poetic, sometimes scholarly, and always thoughtful and engaging style, Williams reflects with wisdom and empathy on the gospel connections to issues of peace, war, justice, sexuality, wholeness, suffering, loneliness, vocation, and mission.

Sermons from the church year and practical matters of Christian spirituality such as intercessory prayer and Bible study are also included; still others celebrate great Christian figures across the centuries, from the Anglo-Saxon saints to Michael Ramsey and T. S. Eliot. Also, published for the first time are Williams's addresses on Mission and Spirituality delivered at Yale in 1991, a sharp but sympathetic perspective on evangelism in the church today.
"Williams' standpoint is that of Catholic and critical orthodoxy...with an originality reminiscent of such recent Anglican divines as Austin Farrer and Donald MacKinnon. These sermons also reveal a bishop who is at the same time a serious theologian and a sensitive pastor." —Church Times
"This book of addresses and sermons given to particular congregations is accessible and sometimes very moving. His thinking is always original and deep, combining erudition and personal spirituality. There are many good things in this nutritious book." —The Julian Meeting
"These sermons aimed at deepening understanding of the faith of believers and enriching their spirituality certainly merit a place in the best Anglican tradition of preaching." —Theologia Cambrensis
---
As reviewed by Joseph Webb of the School of Theology at Claremont in Encounter (October 1996):
"Books of sermons, meditations, 'reflections,' etc., that actually instruct the preacher are rare indeed. What is not so rare is that these books often arise from the distinguished Anglican tradition of theology and preaching. Rowan Williams' new book, A Ray of Darkness, is one of them. It is a hefty collection of 45 pieces. The work is filled with sensitive theology, spirituality, and erudition. The book makes one want to be a better preacher.
"There is great variety in these pieces, but the variety, significantly, is largely in the range of 'occasions' for which Williams is able to shape gospel. For example, there is a jewel of a short wedding sermon here, well worth emulation. There is a striking piece here on the relation between music and the gospel titled 'Keeping Time,' preached, we are told, 'For the Three Choirs Festival.' There is a profound university sermon preached 'at the outbreak of the Gulf War.' There are what appear to be tributes to 'saints' such as John Wesley, T. S. Eliot, and Michael Ramsey; but they are, instead, gospel statements, some would say sermons, framed in a highly original and provocative manner. One comes away from the volume wanting to speak on 'special occasions' and charged with a new sense about how to do so....
"Williams' book treats each Scripture text like an old grime-covered window. For him, the preacher's task is to rub a small clearing on the window through which to peer, with face pressed to the glass, into an obscure and shadowy room. Sermons have a probing, searching quality when texts are treated in this manner. As to the difficult matters of doctrine and creed, Williams demonstrates how one can explore the metaphorical, even mythic, dimensions of creedal ideas while, at the same time, affirming those ideas in fresh form for the church's life and health."
Archbishop Rowan Williams, a well-known preacher, teacher, biographer, and theologian, is Primate of the Anglican Church in Wales and a former professor of theology at the Universities of Cambridge and Oxford. His books include The Wound of Knowledge; Resurrection; and Teresa of Avila. He is also a contributor to Our Selves, Our Souls and Bodies: Sexuality and the Household of God.
(Purchase of this book helps you qualify for the free shipping option if it is being offered at the time of your order.)