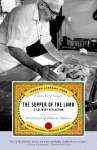 SUPPER OF THE LAMB, THE by Robert Farrar Capon ($11.95)
9.49
RH: 0-37576056-3

From a passionate and talented chef who also happens to be an Episcopalian priest comes this surprising and thought-provoking treatise on everything from prayer to poetry to puff pastry. In The Supper of the Lamb, Capon talks about festal and ferial cooking, emerging as an inspirational voice extolling the benefits and wonders of old-fashioned home cooking in a world of fast food and prepackaged cuisine. This edition includes the original recipes and a new Introduction by Deborah Madison, the founder of Greens Restaurant in San Francisco and author of several cookbooks.

"One of the funniest, wisest, and most unorthodox cookbooks ever written."
—Craig Claiborne, The New York Times

"The Supper of the Lamb is a rare, distilling nectar, albeit fizzy with bubbles of humor and wit...it is fully capable of rescuing us from the dangers of mediocrity daily foisted upon us by the too-fast pace of our lives."
—From the Introduction by Deborah Madison

"The Supper of the Lamb is as awesomely funny, wise, beautiful, moving, preposterous a book as this reviewer has come across for years....It is a love letter to a world that 'will always be more delicious
than it is useful.'"
—The New York Times Book Review

AUTHOR BIOGRAPHY

Robert Farrar Capon is the author of numerous books on theology, cooking, and family life. His works include Between Noon and Three; Kingdom, Grace, Judgment; and Genesis, the Movie. Capon lives on Shelter Island, New York.