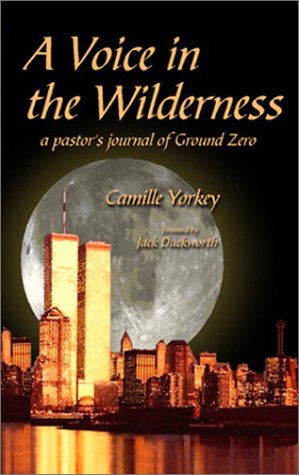 VOICE IN THE WILDERNESS A Pastor's Journal at Ground Zero by Camille Yorkey +
24.95
CY: 0967911974

In the aftermath of the terrorist attacks of September 11, 2001, a new breed of heroes emerged on the American landscape. They garner little public attention, since their acts of bravery cannot be seen as one valiant moment. Yet their courage, honor, and commitment are abundantly clear. They are the workers and volunteers at Ground Zero, site of the former twin towers of New York City's World Trade Center.

In her candid and touching journal, the Reverend Camille Yorkey provides a window into the hearts and minds of these dedicated souls. We meet the men and women responsible for removing debris from the site, separating steel, concrete, and gypsum dust from human remains. We stand with the men and women who work behind the scenes distributing clothing and supplies, preparing meals, and providing relief from physical and psychological pain. We grieve with the medical examiners, firefighters and police officers at the temporary morgue over the senseless loss of life.

A Voice in the Wilderness is a testament to the triumph of the human spirit in the wake of overwhelming tragedy. Just as the steady hands of workers mend the nation's gaping wound bit by bit, so this compassionate pastor soothes battered spirits soul by soul.

This item does not qualify for free shipping. However, normal shipping applies and there is never a surcharge.