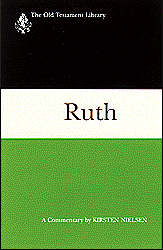 RUTH (OLD TESTAMENT LIBRARY)(Commentary by Kirsten Nielsen)($24.95)+
21.95
WJK: 0-664-22092-4

Nielsen's comments on this beloved book paint a rich and subtle portrait of its characters, carefully tracing the many connections between this story and other Biblical passages, such as the stories of Judah and Tamar. This volume is a powerful addition to this critically acclaimed series.

This item does not qualify for free shipping. However, normal shipping applies and there is never a surcharge.