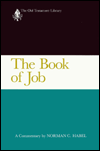 ECCLESIASTES (OLD TESTAMENT LIBRARY)(Commentary by James Crenshaw)($29.95)+
27.95
WJK: 0-664-21295-6

This critically acclaimed series provides fresh and authoritative treatments of important aspects of Old Testament study through commentaries and general surveys. The contributors are scholars of international standing.

This item does not qualify for free shipping. However, normal shipping applies and there is never a surcharge.