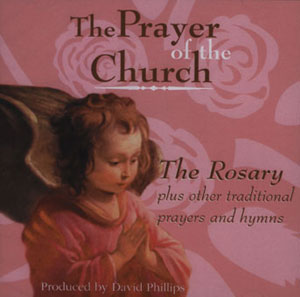 PRAYER OF THE CHURCH The Rosary and Other Traditional Hymns and Prayers by David Phillips ($16.95)
14.95
LIG: K6935

Songs include:
Ave Maria
Faith of Our Fathers
The Angelus
The Act of Contrition
Anima Christi
Prayer of St. Ignatius
Hail Holy Queen (Prayer)
St. Michael The Archangel
Ave Maria / Opening Prayers / Sing of Mary
First Decade / Hail, Queen of Heaven
Second Decade / Mother Dear, O Pray for Me
Third Decade / O Sanctissima
Fourth Decade / Immaculate Mary
Fifth Decade / Hail Holy Queen
Prayer to Christ The King / Regina Caeli
Hail, Queen of the Heavens / The Memorare
The Confiteor / Acts of Faith, Hope and Love
Angel of God / Dear Angel Ever At My Side
Stabat Mater / Prayer Before a Crucifix
Jesus, My Lord, My God, My All
Hear Thy Children, Gentle Jesus
Available as a compact disc or cassette ($9.95 $10.95). Please indicate your preference when ordering. If ordering the cassette, the price will be adjusted upon receipt of your order but will not be shown on your program-generated receipt.