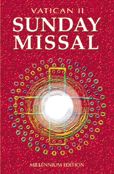 SUNDAY MISSAL Millennium Edition from Pauline Media+
15.95
PM: 0-8198-8030-2

Includes:
Seasonal Themes from Pope John Paul II;
Biblical Commentaries for each Cycle of Readings by Celia Sirois; and,
the "New American Bible" text from the revised Sunday Lectionary for Masses on Sunday, solemnities and the Easter Triduum.
Available with either a paperback or leatherflex cover. If ordering the leatherflex cover edition, the price will be adjusted upon receipt of your order but will not be reflected on your program-generated receipt. Prices are as follows:
Paperback Edition: $15.95(#8031-0)
Leatherflex Edition: $29.95 (#8030-2)
This item does not qualify for free shipping. However, normal shipping applies and there is never a surcharge.