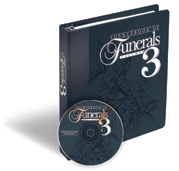 SOURCEBOOK OF FUNERALS 3 ($59.95)+
54.95
CR: FNR3C

With this information-packed Sourcebook at your fingertips, you'll have a wealth of solid, appropriate material to help you create a personalized funeral service that befits the deceased and proclaims God's Word including ...
85 Sample Funeral Sermons for people of various ages and from many walks of life. Some are intended to memorialize faithful church members. Others are for burying unchurched persons, and still others are for use at funerals where the deceased is a person unknown to the pastor.
A variety of Liturgies, Prayers, Committal Services, Scripture Readings, hymns and other music, poetry and prose Readings.
Practical guidance on the care of the dying and follow-up ministry to the bereaved, including model Pastoral Letters to offer comfort as they go through the grieving process.
Now, even when you're short of time, the SourceBook of Funerals Volume 3 gives you virtually everything you need to create comforting funerals that honor the deceased, whether a church member or unchurched. The new 2006 volume-plus-CD combo is packed with ...
85 new sermons appropriate for young and old
60 new readings
40 new prayers, plus new committals and liturgies
Guidance on care for the dying
20 new model pastoral letters to offer comfort to the bereaved ... and much more.
Includes a FREE CD-ROM with all of the printed materials for ease of transfer into your own sermons and programs.
Also available as a set with Sourcebook of Funerals 1 or Sourcebook of Funerals 2 (both Volumes 2 or 3 include an IBM/MAC-compatible CD-ROM) for $99.95 (list: $109.90)(Save 15%!!). Or purchase all three for $139.95 (list: $159.85). These special prices also include the disk of your choice for Volume 1 (or we can burn a CD for you with all of the info). Please indicate your preference on the order form. If ordering the set of volumes, the price will be adjusted upon receipt of your order, but will not be reflected on your program-generated receipt.
This item does not qualify for free shipping. However, normal shipping applies and there are no surcharges.