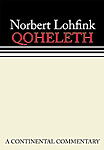 QOHELETH (Continental Commentary by Norbert Lohfink, SJ)($23)+
20.95
AUGS: 0-8006-9604-2

This new addition to the successful Continental Commentary series is a significant and fresh treatment of Qoheleth (or Ecclesiastes). A famed professor presents a startlingly new translation of this often perplexing book of the Old Testament. Lohfink also argues for a rather different interpretation of the book than one finds elsewhere. Rather than reading the book's perspective as depressing, lost, or cynical, he highlights the elements of joy and balance. The volume includes introduction, new translation, commentary, parallel passages, bibliography, and indexes.

About the Author: Norbert Lohfink, S.J., before his recent retirement, was Professor of Old Testament at Sankt Georgen Seminary (Frankfurt, Germany). His published works in English include: Theology of the Pentateuch (Fortress Press, 1994), The Covenant Never Revoked (1991), Option for the Poor (1987), and Great Themes from the Old Testament (1982).

About the Translator: Sean McEvenue is Professor of Old Testament Emeritus at Concordia University, Montreal, Canada. His publications include Interpretation and Bible: Essays on Truth in Literature (1994) and The Narrative Style of the Priestly Writer (1971).

This item does not qualify for free shipping. However, normal shipping applies and there is never a surcharge.