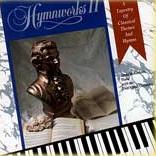 HYMNWORKS II by Linda McKechnie ($15.95)
12.95

Hymnworks I and II are stirring piano and orchestra arrangements of beloved hymns woven together with classical masterpieces.
How Great Thou Art (with Symphony #5 by Beethoven)
Be Still My Soul (excerpts from Finlandia by Sibelius)
Joyful, Joyful, We Adore Thee (excerpts from Symphony #9 by Beethoven)
To God Be The Glory (with Concerto #1 by Tchaikovsky)
O The Deep,Deep Love of Jesus (with Moonlight Sonata by Beethoven)
Holy, Holy, Holy (with Piano Concerto #2 by Rachmaninoff)
My Faith Looks Up To Thee (with Pavone by Ravel)
My Jesus, I Love Thee (with Sleepers Wake by Bach)
Leaning On The Everlasting Arms (with Sonata in C by Mozart)
O Love That Wilt Not Let Me Go (with Piano Concerto #21 by Mozart)
Available as a compact disc or cassette ($8.95 $10.95). Please specify your preference when ordering. If ordering the cassette, the price will be adjusted upon receipt of your order but will not be reflected on your program-generated receipt.