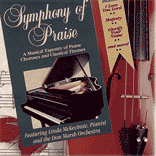 SYMPHONY OF PRAISE I by Linda McKechnie ($15.95)
12.95

Symphony of Praise I and II are arrangements of favorite Praise choruses blended with classical music.
Majesty (with Concerto in A Minor by Grieg)
All Hail The Power (with Trumpet Voluntary by Purcell)
This Is The Day [with Rodeo by Copeland (with special instructions)]
I Will Enter His Gates (with Rondo by Mouret)
Glorify Thy Name (with Etude by Chopin)
Great Is The Lord (with Minuet by Paderewski)
As The Deer (with The Swan by Saint-Saens)
How Majestic Is Your Name (with Alleluja by Mozart)
Seek Ye First (with Canon by Pachelbel)
I Love You, Lord (with O Lord Most Holy by Franck)
Available as a compact disc or cassette ($8.95 $10.95). Please specify your preference when ordering. If ordering the cassette, the price will be adjusted upon receipt of your order but will not be reflected on your program-generated receipt.