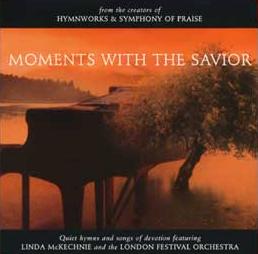 MOMENTS WITH THE SAVIOR by Linda McKechnie ($19.95)
17.95

Escape the stress of everyday life as you find peace and rest through quiet hymns and songs of devotion. Allow the music to lead you in a time of persoinal worship and reflection as you spend a few Moments With The Savior. Special value of a double CD includes one CD of 10 musical arrangements as well as a CD with 6 devotional readings by Zondervan's "Moments With The Savior" author Ken Gire.
Fairest Lord Jesus/Jesus the Very Thought of Thee
What Wondrous Love Is This
He Hideth My Soul
Savior Like A Shepherd Lead Us/Gentle Shepherd
There Is A Redeemer
O Sacred Head Now Wounded
Lamb of God/Lord Have Mercy Upon Us
Nobody Knows the Trouble I've Seen/What A Friend We Have in Jesus
Available as a compact disc or cassette ($8.95 $10.95). Please specify your preference when ordering. If ordering the cassette, the price will be adjusted upon receipt of your order but will not be reflected on your program-generated receipt.