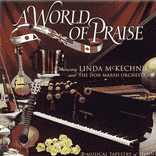 WORLD OF PRAISE by Linda McKechnie ($15.95)
14.95

A World of Praise features unique arrangements of piano and orchestra with instruments from all around the world in a global celebration of praise. It includes Irish flute, bagpipes, mandolin, steel drums, African drums, accordian and much more.
Come, Christians, Join To Sing
I Am Bound For the Promised Land
The God of Abraham Praise
Siyahamba and Kum ba Yah
Come Thou Almighty King
Our Father, Which Art in Heaven
Available as a compact disc or cassette ($8.95 $10.95). Please specify your preference when ordering. If ordering the cassette, the price will be adjusted upon receipt of your order but will not be reflected on your program-generated receipt.