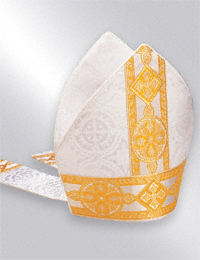 BISHOP'S MITRE H-87 (White with Gold Trim)(with free shipping)
347.90 308.95 On Sale!
MUR: BMH87

This hand tailored Bishop's Mitre is ready to ship the next day following our receipt of order, and is backed by the Murphy Qwick-Ship Guarantee of Satisfaction. For a larger view please click on this link.

Created in white Damascene®, the Murphy original contemporary brocade created exclusively for church use. Features include:
Gold tapestry Fleur Bandings adorn the front and back
12" tall
Satin lined, with leather headband
Individually tailored in the USA
Ready to ship in sizes from 21½" to 24".
To determine your hat size, please click on How to Measure.

Matching Benediction Cope, Benediction Stole and Chasuble are also available.

Free ground shipping offer applies only to orders shipped within the continental US.

Custom tailored mitres of this style are available with delivery in 6 to 8 weeks in your choice of sizes, fabrics, etc. starting at $422.95 (list: $452)(MR124). Please contact us for more information via our toll free number at 877-432-6745.