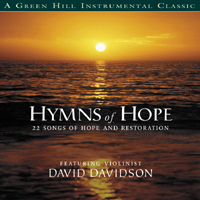 HYMNS OF HOPE (Violin Instrumentals by David Davidson)($15.98)
13.95
GH: 5289

Music becomes a constant source of inspiration for the soul in uncertain times. Violinist David Davidson has compiled and performed his favorite songs of hope and restoration in this timely collection for a world of lost innocence. Includes:
God So Loved The World
Have Thine Own Way, Lord
Morning Has Broken
Appalachia
Breathe On Me, Breath of God
Abide With Me
Be Still, My Soul
Softly and Tenderly
Nearer, My God, To Thee
O Perfect Love
There is a Balm in Gilead
Shall We Gather At the River
Take My Life, and Let It Be Consecrated
Take Time to Be Holy
What a Wondrous Love Is This
Be Thou My Vision
When Morning Gilds the Skies
Jesus, Priceless Treasure
Jesus, Priceless Treasure (reprise)
Instrumentation: violin, piano, guitar, whistles, and string ensemble

Running Time - 70:00

Available as a compact disc or cassette ($9.95 $10.98). Please indicate your preference when ordering. If ordering the cassette, the price will be adjusted upon receipt of your order but will not be shown on your program-generated receipt.