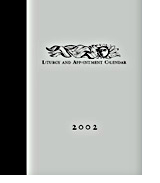 LITURGY AND APPOINTMENT CALENDAR 2012 ($15)+
12.95
LTP: 1-56854-397-2

Have you always wanted to make the liturgy a part of your everyday life? Do you wonder what saint is being celebrated today, or what readings are being proclaimed at daily Mass? LTPís annual desk calendar provides all of this information and much more, and has plenty of room for all your meetings and appointments as well. The spiral-bound calendar has two pages for each week and includes daily liturgical titles, lectionary reading citations for every day of the year, vestment colors and notable secular observances. Each week also features eye-catching art and a quote from one of the churchís eucharistic prayers to meditate on during the week. Itís a wonderful gift for liturgical ministers and a handy companion for anyone who wants to carry the liturgical life of the church into home and work.

Also available is a reusable cover for the spiral bound Liturgy and Appointment Calendar. The zippered cover features a leather-like exterior, an interior pocket, a pen holder and a page-marker with a place for business cards and self-stick notes. Intended for use year after year, this cover provides extra protection for your calendar and extra organization space for you. Cover may be ordered separately or as a set with the calendar at a reduced price. Please indicate your preference when ordering. If ordering the calendar/cover combo or just the cover, we will adjust the price upon receipt of your order but it will not be shown on your program-generated receipt. Prices are as follows:
Desk Calendar: $12.95 (list: $15)(APPC12)
Desk Calendar Cover: $27.95 (list: $30)(APPCOV)
Calendar and Cover: $39.95 (list: $45)(APPSET)
This item does not qualify for free shipping. However, normal shipping applies and there is never a surcharge.