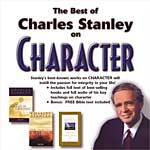 BEST OF CHARLES STANLEY ON CHARACTER (CD-ROM)($14.95)
11.95 7.95 On Sale!
TNP: 0-7852-4714-9

The best of Charles Stanley, founder of In Touch® Ministries, on Character. This CD-ROM is a collection of some of Dr. Stanley's best-known works. Included are audio recordings as well as the full text of each of the following books:
Success God's Way — God's principles for success, including ten steps to help you reach God's goals in your life.
The Reason for My Life — Learn ways to remain hopeful no matter what the circumstances.
Our Unmet Needs — Sound biblical teaching and re-life examples for encouragement.
Benefits include fast searching capabilities, cut and paste into word processing programs for reference in sermon or lesson outlines, ability listen to audio recordings in the background, additional titles that you can purchase, unlock and add to your system, compatible with all Nelson Electronic Libraries, and more!
Windows System Requirments:
Requires Windows 3.1 or Windows 95/98/00/ME.
486-SX CPU or higher.
Minimum 8MB RAM (16MB RAM recommended).
15 megabytes free space on the hard drive.
Minimum 2X CD-ROM drive.