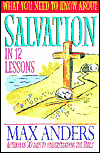 WHAT YOU NEED TO KNOW ABOUT SALVATION IN 12 LESSONS by Max Anders ($12.95)+
11.95
TNP: 0-7852-1191-8

Christianity begins with the bad news that all are spiritually lost and then announces the good news that Jesus saves those who trust Him. What You Need to Know About Salvation explores the provision of salvation in Jesus Christ, its application today through the Holy Spirit, and its consummation at the Second Coming.
Max Anders' warm, humorous style makes biblical truth easy to understand and apply.
The unique question-and-answer format makes it easy to teach and supports good group interaction.
Respectfully presents differing evangelical positions, making it suitable for any evangelical church or individual
This item does not qualify for free shipping. However, normal shipping applies and there is never a surcharge.