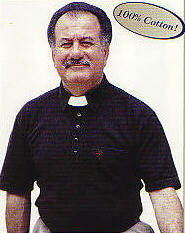 CLERGY TAB POLO SHIRT (Short Sleeve)(Black) from MDS
43.95 39.95 On Sale!

Matte woven 100% cotton black tab polo shirt from MDS. Attach removable collar for formal occasions or remove it for casual events. Embroidered cross adorns the pocket. Machine washable. Available in small, medium, large, extra large and extra extra large sizes.

PLEASE NOTE THAT ACCORDING TO INDUSTRY STANDARDS, ALL APPAREL IS NON-RETURNABLE SO PLEASE ORDER CAREFULLY!!!