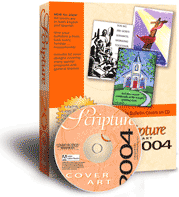 SCRIPTURE COVER ART 2005 (Year A)($49.95)
44.95
CR: SC4CD

Your worshipers will feel welcome when you hand them one of these inviting bulletins.

    Each cover has a stunning illustration combined with a powerful message from Scripture. And you'll love the advantages Scripture Cover Art 2005 offers your church:

• Economical — Packed with 62 original new designs, this set provides enough covers for the whole year and more. No need to re-order covers every quarter or place special orders for weddings, funerals, communion, etc.
• Convenient — Print only as many bulletins as you need. You won't end up with shelves full of unused preprinted covers, or run out of covers on high-attendance Sundays.
• Appropriate — Each carefully selected Scripture verse is combined with a striking illustration created especially for it.
• Versatile —  Each cover design comes in both black-and-white and full-color and in a variety of formats, including Web-ready GIFs.

NEW for 2004 both English and Spanish versions available.

For more information and to view samples, click here.