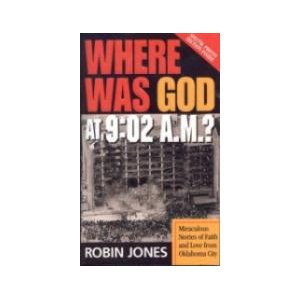 WHERE WAS GOD AT 9:02 AM by Robin Jones +
7.95
TNP: 0-7852-7577-0

Subtitled "Miraculous Stories of Faith and Love from Oklahoma City".

At 9:02 AM on April 19, 1995, a bomb ripped away a third of the Alfred P. Murrah federal office building in Oklahoma City, OK. One hundred, sixty-eight men, women and young children died in the explosion. Instantly, emergency services and churches mobilized, astounding the state and the nation with their response. Before the week was out, Oklahoma City's cry turned from "Terror in the Heartland" to "Together in the Heartland" and finally "Healing in the Heartland".

At 9:02 AM, a bank employee felt the explosion and saw the smoke. An amateur photogragher, he grabbed his camera and walked to the site. Two of his pictures, seen around the world, showed goodness in the midst of the evil. The first, a caring policman handing over a fragile child to a fireman. The second, that fireman gently cradling the infant in his arms.

At 9:02 AM, a woman was preparing food to serve following a funeral. She heard about the bombing on television. At 10:30, as she drove east of the city, she noticed a brilliant white cloud on the city skyline and the hair on the back of her neck prickled. She slowed for a better look. The cloud was filled with angels.

Out of the hundreds of stories to emerge from the death and destruction of the bombing, these true accounts of the miracles provide answers to the question "Where was God at 9:02 AM?" In the days after the bombing, many Oklahomans said "He's walking among us".

by Robin Jones. Mass market paperback edition. 276pp. Includes eight pages of black and white photographs.

This item does not qualify for free shipping. However, normal shipping applies and there is never a surcharge.