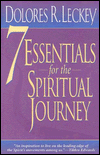 SEVEN ESSENTIALS FOR THE SPIRITUAL JOURNEY by Dolores Leckey ($13.95)
11.95
CSRD: 0-8245-1783-0

Dolores Leckey draws from her own experiences and from the wisdom of others to help us on our spiritual journey. She invites us to pause at whatever point we may be on, and to reflect on the resources that we need to lighten our yoke and light the way. They are:
Mentors and Guides;
Silence and Solitude;
Authentic Community;
Discovering the Sacred in the Ordinary;
Savoring;
Lightness and Laughter; and,
Surrender.
Spiritual seekers will find her book a friendly companion with refreshing reminders and new ideas to help them on the way.

Dolores Leckey is a Senior Fellow at the Woodstock Theological Center, Georgetown University. She has worked in the area of spirituality and a retreat leader, lecturer and writer - in the United States, Europe and Australia - for more than a quarter of a century. For twenty of those years, she held the highest profile position a woman ever held with the National Conference of Catholic Bishops: Executive Director of the Secretariat for Family, Laity, Women and Youth.

(Purchase of this book helps you qualify for the free shipping option if it is being offered at the time of your order.)