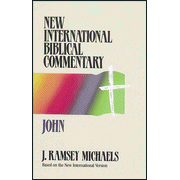 JOHN (New International Commentary by J. Ramsey Michaels)+
14.95
HEND: 0-943575-14-1

This volume in the New International Biblical Commentary introduces and analyzes the major themes of the Fourth Gospel and carefully weaves those themes into the whole story of the good news. Michaels takes pains to offer modern readers fresh insights into John's mysteries and symbols that first-century readers would not have missed. The commentary's format will suit both general readers and serious students—the section-by-section commentary is based on the NIV, technical notes are presented separately, and all Greek is transliterated.

Author Bio

J. Ramsey Michaels is former Professor of Religious Studies at Southwest Missouri State University and the author of several books including a major commentary on 1 Peter (WBC).

The above links require the Adobe Acrobat Reader. If you do not have the reader, click on the 'Get Acrobat Reader' button to obtain it.


This item does not qualify for free shipping. However, normal shipping applies and there is never a surcharge.