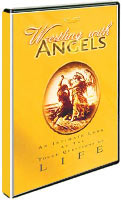 WRESTLING WITH ANGELS with Tony Campolo, Madeline L'Engle, etc. +
69.95
TT310

This six-part series tackles head-on the kind of tough, real-life questions that can lead a person into a deeper understanding of God. Each episode features ordinary people sharing their experiences of struggling with these questions. Their stories are interwoven with reflection and commentary by some of the most sought-after, best selling Christian authors and speakers of our time. Includes reproducible study guide.
Guidance with Tony Campolo
How Do I Know What To Do?
Dynamic speaker Tony Campolo, offers candid insights on how to discern God's will in these confusing times.
Why me? with Philip Yancey
If You're So Good, Why Are Things So Awful?
Philip Yancey, whose best-selling book Where Is God When It Hurts?, has moved thousands with his honesty and insight. He digs deep to help us find hope in the face of suffering.
Prayer with Richard Foster
Why Don't My Prayers Get Answered?
The celebrated author of Prayer: Finding the Heart's True Home offers guidance to those looking to enrich their prayer lives.
Forgiving with Lewis Smedes
How Do I Forgive And Get On With My Life?
Counselor and teacher Lewis Smedes leads the viewer to understand and practice forgiving as act of strength and healing.
Doubt with Madeleine L'Engle
How Can I Question and Still Believe?
Newberry Medalist Madeleine L'Engle (A Wrinkle In Time) helps us to see how doubt actually makes faith possible, freeing us from "the need to have finite answers to infinite questions."
Love with J. Keith Miller
Why Is Loving So Hard?
J. Keith Miller shares the ways in which he has found love of self and others such a challenge. His recent work has dealt with spiritual and emotional healing through the 12-step programs of recovery.
RunningTime: 25 minutes each