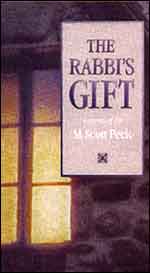 RABBI'S GIFT, THE (DVD narrated by Scott Peck)
19.95
TT402

THE RABBI'S GIFT is an extraordinary fable about one community's yearning for new life and vitality. Set in the timeless world of an isolated monastery, it tells how a visiting Rabbi's parting words, "The Messiah is one of you," penetrate the walls and lead to a surprising discovery.

Visually rich and beautifully photographed, this deceptively simple video evokes thought and discussion about community building, respect, diversity, the power of the imagination, and conflict resolution. M. Scott Peck, author of the classic best­seller The Road Less Traveled, narrates.

Includes a Leader's Study Guide with suggested meditation questions for use in group study.