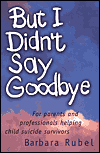 BUT I DIDN'T SAY GOODBYE by Barbara Rubel +
14.95
GW: 1892906007



Synopsis

This is the story of Alex, a ten-year-old whose father has just died by suicide. Alex asks questions and tries to find meaning in the loss. At the end of each chapter in Part One, there are pages with STOP signs. The purpose of the 8 Stop to Process pages is to help the grieving child process his or her own story. The dialogue in each short chapter will show the adult how they can help develop honest, open communication between a child suicide survivor and the people in his or her life.
The Worst Day, focuses on how to tell a child that someone they cared about completed suicide.
My Hidden Thoughts, identifies the child's thoughts as they search for answers.
Mom Tries to Explain Why, poignantly illustrates how to talk about mental illness with a child.
Grandma's Special Gift, shows the significance of giving the child a special object that belonged to the deceased.
The Next Morning, deals with the child's grief response.
Lunch with Coach, examines past losses.
Telling a Friend What Happened, explores the importance of sharing one's story.
Finding Support, focuses on the benefit of Bereavement Counselors and support groups for children.
A Note from Alex, is a summary of the continuing attachment between Alex and his dad.
Part 2 includes a reference section
About The Author:
While pregnant with triplets, Barbara Rubel's father, a retired NYC police officer, took his own life. When Barbara's story was featured in the Emmy award winning PBS Documentary, Fatal Mistakes: Families Shattered by Suicide, narrated by Marriette Hartley, there was an immediate and heartfelt response to her testimony. She has appeared on TV, including AM Philadelphia Live and Family Talk, and has been a guest on many radio programs across the US. Barbara Rubel is a frequent speaker at conferences and seminars offering a wide range of dynamic presentations on suicide awareness, prevention and hope. She has authored numerous articles appearing in periodicals and journals that have educated the public about suicide, crisis intervention, healing, and exploring suicide as a public health problem.
What People Are Saying
"A richly imaginative and innovative work that is solidly grounded and eminently readable. An invaluable resource in the study of suicidology." - Rabbi Earl Grollman, D. H. L.; D.D., author with Max Malikow of Living When a Young Friend Commits Suicide
"This is an extraordinary resource to help children deal with the difficult often hidden and stigmatizing after effects of suicide. One that is honest and respectful of the child's intelligence and resiliency. I strongly recommend it." - Kenneth J. Doka, Ph.D., Professor of Gerontology, College of New Rochelle, NY, Senior Consultant Hospice Foundation of America
"But I Didn't Say Goodbye is a wonderfully, new, refreshing and practical approach to working with children who are suffering the loss of a loved one due to suicide. Barbara Rubel takes a very difficult topic and creates a manageable path for parents and professionals to follow when helping the young suicide survivor." - Helen Fitzgerald, author, The Grieving Child
"But I Didn't Say Goodbye will be a wise informer, a nurturing guide and a welcomed friend for children, for those who walk with them, and for the grieving adults in their life." - The Rev'd. Richard B. Gilbert, D.Min., BCC, CPBC, Executive Director, the World Pastoral Care Center, author, consultant, and speaker.
All of our copies are autographed by the author.
This item does not qualify for free shipping. However, normal shipping applies and there is never a surcharge.