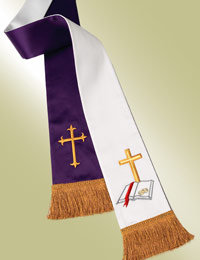 WEDDING STOLE (Reversible)(with free shipping) from Murphy Robes
111.90 99.95 On Sale!
MUR: 13906

This reversible clergy stole serves double duty for weddings and other occasions. Ready to ship within 24 hours of our receipt of your order, and backed by the Murphy Qwick-Ship Guarantee of Satisfaction.


Tailored in white and purple Empress Satin

Features embroidered symbols as shown on both ends of each side: a traditional wedding symbol on the white side, and a Latin Cross on the purple side.

Rich gold 3" brush fringe wraps both ends

This pulpit stole measures approximately 88" in length, including fringe.
Free ground shipping offer applies only to orders shipped within the continental US.