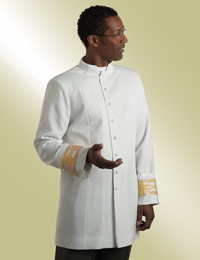 CLERGY JACKET H-103 & 104 (White)(with free shipping) for Men or Women
279.95 259.95 On Sale!
MR: H-103



Casually tailored, this Clergy Jacket provides new options for the contemporary pastor. Ready to ship the next business day following our receipt of your order, and backed by the Murphy Qwick-Ship Guarantee of Satisfaction.

Features include:
Wide Satin Fleur Banding with gold metallic highlights accent wide cuffs;
Tailored in white Linette for a crisp, wrinkle-free look;
Fully lined;
Inside vest pocket (for men);
Standing collar with removable clerical tab.
Available in 20 sizes to fit most men or women. Click on Menís Size Chart to view available sizes for men and the Women's H Size Chart for women.

Women may wear this Jacket with the Skirt H-155 for a complete ensemble.

Custom Jackets of this style are available with delivery in 6 to 8 weeks in your choice of sizes, etc. for $347.95 (list: $362)(MR278M or 278F). Please contact us for more information via our toll free number at 877-432-6745.

Have you considered a Garment Bag for your new robe or alb to keep it dust-free and for travel?

Free ground shipping is available in the continental US. If international or expedited shipping is required, the free shipping offer does not apply.