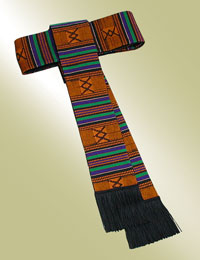 BAND CINCTURE 902M (Kente Cloth)
83.00 74.95 On Sale!
MR: BC902M

The appearance of this simple Band Cincture will vary considerably depending on the fabric and color you choose. Secured at the waist with adjustable Velcro strip closures, each drop panel features fringed ends. Measures 4" wide when tailored for men, a slightly narrower version is available for women as Band Cincture #080-F.

Make it your own. You may select your fabric and color whenever you choose a custom tailored option. For Band Cinture sizing instructions, please consult the Measuring Instructions.

We can provide you with ordering information, fabric samples, and assistance with measuring. As with all custom tailored items, please allow 6-8 weeks for delivery following factory receipt of all ordering information.

In a hurry? Check out the Qwick-Ship selection of Band Cinctures. Each QS item offers extra savings, and is ready for shipment in a wide range of sizes within 24 hours of factory receipt of order.

The Murphy Guarantee of Quality means that any custom tailored item you purchase will be tailored in the size, style, fabrics, and colors indicated on your order. If the item does not meet the specifications represented in their catalog or on the web site, or is found defective in workmanship or materials upon delivery, they will repair or replace the item at no charge.

If ordering this cincture separately from the cassock, shipping will be about $15 depending on your distance from the Murphy warehouse in St. Petersburg, FL. If ordering more than one item, that will also raise the shipping costs accordingly. Therefore, we will adjust your shipping charge to reflect this change upon receipt of your order. Any questions, please call our toll free number. By submitting your order, you agree to this change to your order!!

INTERNATIONAL ORDERS, PLEASE NOTE: There is an additional charge of $15 for each international order processed over and above the actual shipping charges since these robes will have to be shipped to our store before shipping overseas and will not be sent directly from Murphy. Additional items in your order will incur additional charges above the minimum for the additional weight.