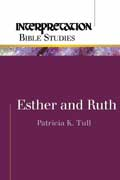 ESTHER AND RUTH (Interpretation Bible Studies) by Patricia Tull +
12.95
WJK: 0-664-22670-1

Interpretation Bible Studies (IBS) offers solid biblical content in a creative study format. Forged in the tradition of the celebrated Interpretation commentary series, IBS makes the same depth of biblical insight available in a dynamic, flexible, and user-friendly resource. Designed for adults and older youth, Interpretation Bible Studies can be used in small groups, in church school classes, in large group presentations, or in personal study. Each volume focuses on ten key passages from a book of the Bible and can serve as the basis for a ten-session study or be easily modified for shorter or longer schedules. Featuring maps, illustrations, definitions of key terms, interesting biblical facts and features, questions for reflection or discussion, as well as leaders' suggestions for group use, IBS combines a great heritage of scholarship with a fresh approach to biblical study.

This 10-session study will cover the entire Old Testament books of Ruth, with its themes of community, loyalty, and relationship, and Esther, with its stories of faithfulness, courage, and survival. Patricia Tull will also explore ethical questions posed by the ending of Esther.

Patricia K. Tull is Associate Professor of Old Testament at Louisville Presbyterian Theological Seminary. She is an ordained minister, author, and a contributor to To Each Its Own Meaning and to the best-selling Women's Bible Commentary from Westminster John Knox Press.

This item does not qualify for free shipping. However, normal shipping applies and there is never a surcharge.