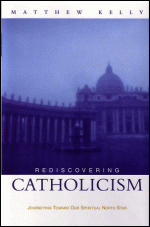 REDISCOVERING CATHOLICISM by Matthew Kelly ($22.95*
19.95 17.95 On Sale!
OSV: 1-59276-012-0



Hard questions deserve solid answers.
Why am I unhappy?
Does everyone feel lonely sometimes?
How can I change my life?
What does God want of me?
Tough times demand eternal truths.
Why are young people rejecting Catholicism?
Why is the perception of Catholicism so negative?
Is it time for the Church to change?
What do the ancient traditions of Catholic spirituality have to do with modern lives?
About the Author:
For more than a decade, author, speaker, and retreat-leader Matthew Kelly has traveled the globe, sharing answers and offering the truth. They aren't his. They're the ones that have been taught by the Church since the first century. They're the ones that have been lived by holy, and happy, men, women and children of faith since the time of Christ.
Here, in a simple, convincing, and entertaining style, are answers and truths. Here is the answer. Here is the truth.
(Purchase of this book helps you qualify for the free shipping option if it is being offered at the time of your order.)