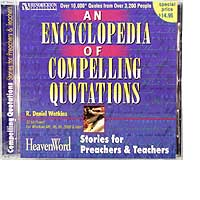 ENCYCLOPEDIA OF COMPELLING QUOTATIONS (on CD-ROM) by R. Daniel Watkins ($14.95)*
11.95
HW: 1-889855-44-8



Packed with over 10,000* quotes from over 3,200 individuals, and subdivided into convenient topics, this collection will add interest to any article, sermon, presentation or coversation. These pithy, uplifting quotes have been culled from over 250 collections of quotations and from almost 300 primary sources.

* Note: For ease of use, many of the one-liners are grouped together in a single entry by topic.

Stories for Preachers & Teachers lets you quickly browse and find the perfect illustrations or quotes for your sermon, lesson or talk. Plus, you can add your own stories.

Works with Windows XP, ME, NT, 98, 95 and higher.