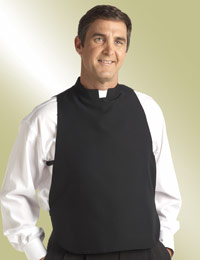 CLERGY SHIRT FRONTS (RABATS)(Black or Black with Silver) ($55.90)
51.95
6406331 (H171-174)

Clergy shirt fronts offer a comfortable and affordable way to change your appearance quickly and conveniently. Just slip on over a T-shirt or neckband style shirt, throw on a jacket, and youíll be ready to officiate at a momentís notice! These shirt fronts are ready to ship the next business day following our receipt of your order and are backed by the Murphy Qwick-Ship Guarantee of Satisfaction.

Tailored in black Viva. Construction details include:
Fully lined;
Standing collar with removable tab;
Adjustable European style elastic back closure.
Stocked in 16 sizes to fit most men. Order by shirt collar size (from 14 to 21 inches) and length (Regular is 21 inches from center front at neck to hemline, long is 24 inches from center front at neck to hemline). Prices and styles are as follows:
Plain Black (shown left): $51.95 (list: $55.90)(H171)
Black with Silver Metallic Wheat Trim: $59.95 (H173)(Size 19 Regular only)