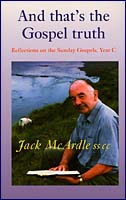 AND THAT'S THE GOSPEL TRUTH Reflections on Gospels by Jack McArdle ($21.95)+
19.95
COL: 1-85607-307-6

For every Sunday of the year, Jack McArdle outlines the central theme of the gospel reading and then offers an extensive reflection on it, under five headings: firstly, a Parable seeks to clarify the theme; secondly, the Teaching of the particular reading is outlined; thirdly, he suggests a living Response to the reading; fourthly, a Practical paragraph points towards the practical implications of the gospel for everyday life, and fifthly, a Story is offered which further reinforces the message of the gospel.

The author says: 'I know many people who are reflective and contemplative by nature, and the word of the Lord is a personal word for them. They would like to know what the Sunday Readings are beforehand, so they can prepare their hearts to welcome that word. They also continue to ponder that word throughout the following week. They are too mature in their Christian responsibility to settle for sitting back, and leaving it all to the preacher.'

He continues: 'This book is not only written for homilists, it is written for the ordinary punter in the pew. It is written for the small groups in parishes who meet during the week to reflect on the Readings for the following Sunday. It is written for the house-bound. Indeed, it is written for anyone who needs material for reflection, and who benefits from being presented with material that has some structure and order to it.'

Reviews

'… will be welcomed by those taking the time each week to journey with Luke in hearing and understanding the good news of Jesus Christ.' - The Furrow

'Fr McArdle has a racy style, easy to read. Something of his energy and enthusiasm comes across in his writing and he has astonishing fund of good stories to illustrate each Sunday's reading.' - Open House

Author Biography

Jack McArdle is a priest of the Sacred Hearts Community in Dublin. He is the author of numerous bestselling books of spirituality including Come 'ere till I tell you and A Word in Your Ear. A popular speaker and retreat-leader, he has also presented a series of Spirit Level on RTÉ Radio 1.

Available for Years A & C of the liturgical cycle. Please indicate your preference when ordering. If ordering both volumes, the price will be adjusted upon receipt of your order but will not be reflected on your program-generated receipt.
Year A: $19.95 (list: $21.95)(#342-4)
Year C: $19.95 (list: $21.95)(#307-6)
Years A & C: $37.95 (list: $41.90)
This item does not qualify for free shipping. However, normal shipping applies and there is never a surcharge.