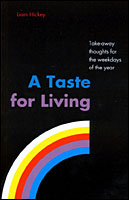 TASTE FOR LIVING Reflections for Weekdays by Liam Hickey ($16.95)+
14.95
COL: 1-85607-006-9

How do you communicate the good news to the ordinary person who is struggling through life's journey, not switched-on to the Church or religion? Fr. Liam Hickey talks of the excitement he feels in telling that we are all loved without condition (no "if's") all of the time. We are forgiven before we ask, and always.

"The vision of John XXIII inspired me to write these reflections. He saw all living as good, if never perfect. All is gift. All is wonder and mystery. It was the vision of Patrick Kavanagh, Brendan Kennelly, Paul Durcan, that sees wonder and mystery in ordinary everyday events, especially in our weak and vulnerable humanity."

Fr. Hickey's reflections are compassionate and encouraging and there is one for each weekday of the year, usually arising from that day's gospel passage.

Liam Hickey is a parish priest in the Dublin parish of Hartstown, Clonsilla.

This item does not qualify for free shipping. However, normal shipping applies and there is never a surcharge.