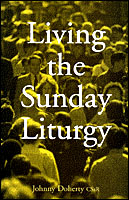 LIVING THE SUNDAY LITURGY by John Doherty CSSR ($19.95)+
17.95
COL: 1-85607-137-5



This unique approach to preparing for, reflecting on and living out the Sunday liturgy will be a boon to families, individuals, pastors and preachers. For each Sunday of the three-year cycle, Fr Doherty gives a Theme and a Prayer Focus for the week. He then takes each of the readings in turn, gives a summary line on the message of each reading and asks a very simple, pointed question which relates the reading to the everyday experience of the reader. Finally, for each Sunday he gives two 'Questions for action', one addressed to married couples and the second to other people.

This book is intended as a vade mecum for everyone who wishes to make the Sunday liturgy more meaningful in their ordinary lives. In the introduction, Fr Doherty shows how it can be used by couples, by families, or by individuals on a daily basis throughout the week.

It will also be of great value in the preparation of homilies as Fr Doherty's simple questions on the readings will prove to be very helpful starting points for homilists.

This item does not qualify for free shipping. However, normal shipping applies and there is never a surcharge.