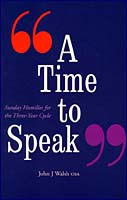 TIME TO SPEAK, A by John J. Walsh, OSA ($25.95)+
22.95
COL: 1-85607-303-3

In this very useful collection, John J. Walsh OSA offers a homily for each Sunday and major feastday of the three-year cycle of the Roman Lectionary.

Arising from the prescribed readings for the day, and steeped in the tradition of the church and the best of modern scriptural scholarship, the homilies are short, to the point, and seek to make the scriptures come alive in today's busy world.

Reviews

'Fr Walsh… skilfully and imaginatively uses his personal experience, knowledge of the bible, Church history, theology, philosophy and the Holy Land to provide some excellent insights into the meaning of the gospel of the day.' - Catholic Times

'One of the better homily books… I warmly recommend this book which can be used for spiritual reading or reflection.' - The Furrow

Author Biography

John J. Walsh is an Augustinian based at St Mary's Abbey, Ballyhaunis, Co Mayo.

This item does not qualify for free shipping. However, normal shipping applies and there is never a surcharge.