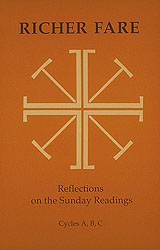 RICHER FARE FOR THE CHRISTIAN PEOPLE Reflections on the Sunday Readings edited by Gail Ramshaw ($18.50)+
16.95
LP: 0-8146-6102-5

These reflections on the Lectionary's gospels have been gleaned from a host of Church sources—from early mystagogical catecheses to current Christian sermons and meditations. Like a feast, Richer Fare strives to satisfy the various tastes by nourishing their spiritual understanding of meditations old and new, traditional and controversial.

Homilists who want to be inspired by others before writing themselves, as well as teachers and lay readers seeking to expand themes in the Gospel at hand, will be gratified by this exceptional anthology.

This item does not qualify for free shipping. However, normal shipping applies and there is never a surcharge.