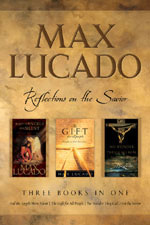 REFLECTIONS ON THE SAVIOR (Three Books in One) by Max Lucado ($19.99)+
16.95
MULT: 1-59052-242-7

NOW OUT OF PRINT!!! WILL NO LONGER BE AVAILABLE ONCE CURRENT STOCK IS DEPLETED!!

Includes three of Max Lucado's bestsellers in one hardcover volume:
And the Angels Were Silent

Max Lucadoís insightful and moving book leads readers through the week when no angel dared to sing. Believers and seekers alike will see Christís passion, sense His power, and hear His promise.

No Wonder They Call Him the Savior

In this compelling quest for the Messiah, Lucado invites readers to meet the blue-collar Jew whose claim altered a world and whose promise has never been equaled.

The Gift for All People

This collection of inspirational stories will help Christians treasure the assurance of their salvation and will lead non-Christians to embrace the gift of abundant, eternal life in Jesus Christ.
576 pages.
This item does not qualify for free shipping. However, normal shipping applies and there is never a surcharge.