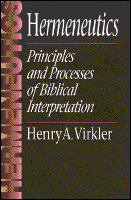 HERMENEUTICS: PRINCIPLES AND PROCESSES OF BIBLICAL INTERPRETATION by Henry Virkler ($17.99)*
14.95 12.49 On Sale!
BB: 0-8010-2067-0

The primary goal of many hermeneutics texts available today is the elucidation of proper principles of biblical interpretation. Hermeneutics, in contrast, translates hermeneutical theory into five practical steps that can be used to interpret all genre of Scripture:
historical-cultural and contextual analysis,
lexical-syntactical analysis,
theological analysis,
genre identification and analysis, and
application.
Chapters begin with goals and include numerous exercises and suggestions for further reading and conclude with a summary.

(Purchase of this book helps you qualify for the free shipping option if it is being offered at the time of your order.)