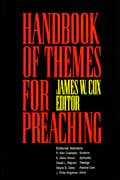 HANDBOOK OF THEMES FOR PREACHING by James Cox ($34.95)+
31.95
WJK: 0-664-22165-3

Experts from various fields offer concise definition, analysis, and discussion of nearly one hundred preaching topics. Subjects discussed include decision-making, abortion, incarnation, poverty, education, the Ten Commandments, jealousy, wealth, stewardship, and violence and war.

This item does not qualify for free shipping. However, normal shipping applies and there is never a surcharge.