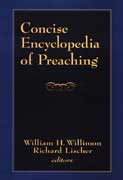 CONCISE ENCYCOPEDIA OF PREACHING by William H. Willimon & Richard Lischer ($44.95)+
41.95

THE CONCISE ENCYCLOPEDIA OF PREACHING is the most comprehensive reference work on Christian preaching available in the English language. No other book so richly combines concerns for the practice of preaching with theological themes and historical tradition. Its scope ranges from the technical tasks of sermon preparation to thoughtful essays on such topics as narrative preaching, African-American preaching, style, and prophetic preaching, as well as a host of issues that are shaping and challenging the contemporary pulpit. Also included are essays that explore the life and work of the church's most influential preachers, including such diverse figures as St. Augustine, Sojourner Truth, and Fulton Sheen.

The nearly two hundred contributors to this volume represent Protestant and Catholic pastors and homileticians from around the world, as well as leading voices in theology, rhetoric, history, and biblical studies. Contributors include Elizabeth Achtemeier, Walter Brueggemann, Walter J. Burghardt; David Buttrick, Fred B. Craddock, O. C. Edwards, Jr., Robert M. Fukada, Beverly R. Gaventa, Catherine Gonzalez, Justo Gonzalez, Stanley Hauerwas, Thomas Long, Eugene L. Lowry, Henry Mitchell, Roland E. Murphy, Haddon Robinson, Barbara Brown Taylor, Lenora Tubbs Tisdale, Thomas Troeger, and Paul Scott Wilson.

This resource constitutes a course in homiletics for the seminarian and the beginning preacher. It will also serve well the experienced pastor.

This item does not qualify for free shipping. However, normal shipping applies and there is never a surcharge.