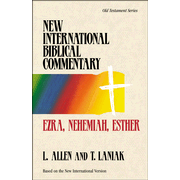 EZRA-NEHEMIAH (New International Biblical Commentary) by Leslie Allen & Timothy Laniak +
14.95
HEND: 1-56563-218-4

Ezra-Nehemiah is the Old Testament equivalent of the Acts of the Apostles—it is a book of new beginnings. Just as Acts narrates the early history of the church through the work of the apostles, Ezra-Nehemiah narrates the re-establishment of the people of God after the exile through the work of Sheshbazzar, Zerubbabel, Ezra, and Nehemiah. Allen explores Ezra-Nehemiah as a single literary text made up of three parts telling the story of three missions and the opposition they meet with. Wise and insightful, Leslie Allen has written a commentary that illuminates these texts and their intended message.

Esther is a story about a young girl who becomes queen. Laniak's thoughtful commentary examines this narrative as a story with many levels of meaning. Esther is about the minority Jewish community in the dependent state of Diaspora, navigating a precarious existence in two worlds, and it is about the triumph of right over wrong, of God's people over their enemies.

Reviews

"This is a fine textbook for study of three frequently overlooked biblical books." The Bible Today

"Three books, two commentators, but one approach, and the right one at that. Although both Allen and Laniak give attention to the historical setting of these post-exilic books, they rightly concentrate their effort on unfolding the intricacies of the literary narrative, since it is here that authority for belief and practice as well as material for preaching lies. With the right balance between overall thematic exposition and detailed notes, their commentary should serve both pastors and students well in opening up these neglected and frequently misunderstood books." —H. G. M. Williamson, Regius Professor of Hebrew, University of Oxford

Author Bios

Leslie C. Allen is Professor of Old Testament at Fuller Theological Seminary. He has written many books including commentaries on Ezekiel, 1 and 2 Chronicles, and Psalms.

Timothy S. Laniak is Associate Professor of Old Testament at Gordon-Conwell Theological Seminary--Charlotte. He is the author of Shame and Honor in the Book of Esther.

Explore This Book

This item does not qualify for free shipping. However, normal shipping applies and there is never a surcharge.