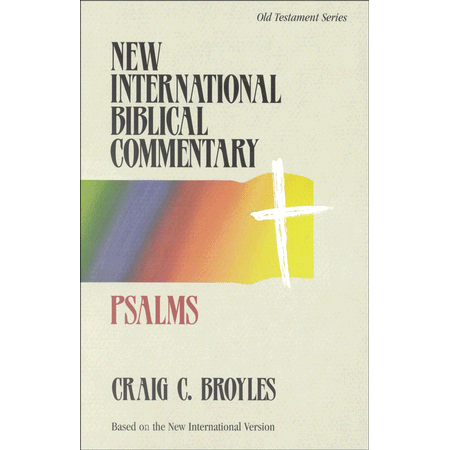 PSALMS (New International Biblical Commentary) by Craig Broyles +
14.95
HEND: 1-56563-220-6

Craig Broyles examines the Psalms as a diverse collection of poems whose main roots are in Jerusalem's worship services. Both in the past and in the present, they provide dynamic liturgies though which the worshipper encounters God—often with vigorous dialogue—and finds meaning for life. Broyles makes the best of contemporary scholarship on the Psalms accessible to both general readers and serious students.

Reviews

"Craig Broyles's commentary on the Psalms represents his own deep knowledge of the Psalms and a sense of the things that matter for the reading and hearing of this great devotional and theological literature. While fully drawing upon the latest scholarly work on the Psalms, the commentary is clear and accessible, giving the interpreter/preacher sufficient grasp of what each psalm is about without overwhelming him or her with masses of detail and secondary references. His attention to the context of ancient Israel is matched by his sensitivity to the contemporary word of the Psalms to believers and to the church as a whole." —Patrick D. Miller, Princeton Theological Seminary

"The New International Biblical Commentary, based on the NIV, and published by Hendrickson and Paternoster Press, offers a more traditional style of commentary, with introductions, explanations of the text section by section, and Additional Notes on specific verses. The editors stress that the Old Testament often seems a strange and foreign book to modern readers, and the purpose of the commentaries is to 'break down the barriers between the ancient and modern worlds so that the power and meaning of these biblical texts may become transparent'. Thus the intention is to provide 'believing criticism', and it offers quite specifically a Christian interpretation, although some writers stress this more than others. . . .

" . . . Craig C. Broyles, Psalms, . . . focuses on the original use of the psalms as liturgies, because this respects their original function and provides a reading that is 'the most remote from modern readers.' Israel's faith was 'sung' as prayer, not 'signed' as a statement of orthodoxy. And each psalm is accepted as unique, although the way they fit into different genres is recognized, and key themes are noted. Broyles admits that the psalms have their limitations. There is much here for the preacher." —The Expository Times

Author Bio

Craig C. Broyles is associate professor of religious studies at Trinity Western University, Canada. He is author of The Conflict of Faith and Experience: A Form-Critical and Theological Study of Selected Lament Psalms, and co-editor of Writing and Reading the Scroll of Isaiah: Studies of an Interpretive Tradition.

Explore This Book

This item does not qualify for free shipping. However, normal shipping applies and there is never a surcharge.