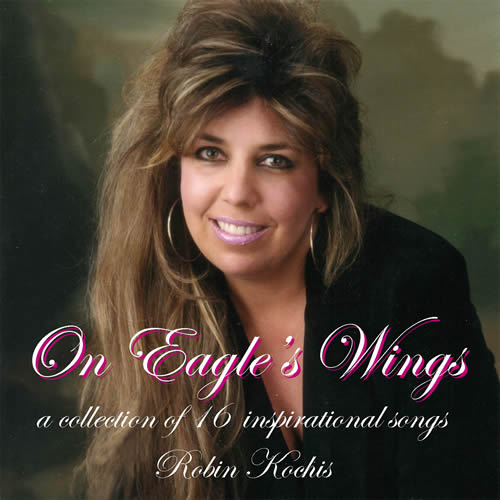 ON EAGLE'S WINGS by Robin Kochis ($15.95)
13.95
LIG:

This album features an array of all time favorite "inspirational" Christian and secular songs. Exquisitely arranged and produced to satisfy the discriminating listener. The superb vocal arrangements on "Landslide" and "Another Day in Paradise" sung by Robin, exemplify her versatility and passion for these heartfelt songs. Dave Murdy contributes his musical talents with melodic and beautiful arrangements, and his masterful guitar playing and harmony vocals. Percussionist Ralph Segarra and drummer Dan Murdy lend their talents to this beautiful collection of songs.

Mellow versions of "Let it Be", "Another Day in Paradise" and "Landslide" highlight this uplifting new album. Beloved songs also included are:
On Eagle's Wings
Be Not Afraid
Center of My Life
As the Deer Longs
The Warrior is a Child
Tears in Heaven
Softly and Tenderly
Morning Has Broken
To Where You Are
When You Believe
Thy Word
Angel
I Can Only Imagine
Return to the Homiletic Resource Center Home Page.